In the ever-evolving landscape of work, one truth remains unshakable: productivity is the lifeblood of success. Whether you're hustling from a bustling office or conquering tasks from the cozy confines of your home, the right tech accessories and peripherals can be your secret weapons to unleashing productivity like never before. Imagine a world where your workspace transforms into a hub of efficiency and innovation. It's not a dream; it's a reality waiting for you to grasp it.
UNLEASH THE ERGONOMIC EDGE
Imagine a workspace that adapts to your needs, ensuring that every task is tackled with precision and comfort. Ergonomics isn't just about stylish chairs; it's about crafting an environment that nurtures productivity. With adjustable monitor stands that meet your eye level and keyboard trays that dance to your typing rhythm, discomfort becomes a thing of the past. Say goodbye to distractions caused by discomfort and embrace a posture that fuels your focus.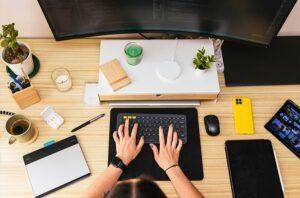 THE FREEDOM OF WIRELESS
Break free from the shackles of tangled cables and embrace the wireless revolution. Whether it's a wireless mouse that glides with finesse or a keyboard that connects with a single touch, you're not just decluttering; you're liberating your workspace. Feel the thrill of unrestricted movement and witness your creative juices flowing as you roam freely in your productivity haven.
SEAMLESS DOCKING, BOUNDLESS POSSIBILITIES
Transform your laptop into a productivity powerhouse with the magic of docking stations. Seamlessly switch from the sleek mobility of your laptop to a full-fledged workstation, complete with dual monitors and a myriad of ports to connect your peripherals. No more compromises on screen real estate or connectivity; just a smooth transition that mirrors the seamless execution of your tasks.
MONITORS THAT MEAN BUSINESS
Elevate your visual experience with monitors that don't just display—they empower. A larger, high-resolution screen isn't just a luxury; it's your canvas for multitasking mastery. Picture editing documents side by side, monitoring emails, and watching an industry webinar, all without a single hiccup. It's not about juggling tasks; it's about orchestrating them flawlessly.
THE AUDIO ADVANTAGE
Communication is your conduit to collaboration, and it deserves to be top-notch. Slip on noise-canceling headphones, and suddenly, the world falls away, leaving you in a realm of pure concentration. A premium microphone ensures that your words come through with crystal clarity, making virtual meetings a breeze. When your voice is heard without interference, your ideas shine even brighter.
It's not a distant dream; it's a tangible reality waiting for you to embrace it. Tech accessories and peripherals aren't just gadgets; they're your partners in productivity. Whether you're the employer shaping a thriving workforce or the employee driving your career, the path to success is paved with innovation and efficiency.
Your workspace isn't just where you work; it's where you conquer, create, and excel. Let tech accessories and peripherals redefine your work experience.
Learn more about how Dell can transform your work life:
Learn More